We Shall Not Be Removed & Graeae Theatre Company invite you to an evening of song and chat with musician and singer-songwriter John Kelly.
About this Event
Wrap up an extraordinary year as #WSNBR's own protest-singer brings his full-hearted activist anthems to your home, LIVE on Zoom! Attendance is FREE but early booking is highly recommended.
Book your free ticket via this link: https://www.eventbrite.co.uk/e/live-for-one-night-only-theyve-let-in-john-kelly-special-guests-tickets-131063794337
Live Captioning and BSL included. For more information about the event and how to book, please visit our post here which includes contact details for any further access requirements or issues you might have: We Shall Not Be Removed and Graeae Theatre Company Present…
A Message from John:
"It's been a year for all of us, challenging, emotional, up and down, a rollercoaster. It has also enflamed our united beliefs in equality and creativity and the need to remind others that We Shall Not Be Removed. Connecting with my music online has been a different experience that has kept me going, not to mention the kindness, support & kinship WSNBR has provided me. I am delighted to have been asked to host this event, to reflect, to look forward and to share the music I've been working on this year. Let's raise the virtual roof in salute to the many creative voices that joined forces to fight against Ableism. I'll be previewing tracks from my new album (sung & signed), as well as singing (and signing) a few old favourites written on the odd street protest 'here n' there'. To add to the top of my tree, I'll be catching up with a few friends too. It'll be just like 'Christmas with Val Doonican'' but without the jumpers…. So, nothing like it really!
I'll provide the music, you bring your own egg nog or tipple of choice, nibbles (mine's a sausage on a stick obviously), you are welcome to add a little of the festive vibe by decorating yerself or zoom window (It will be audio described). It will make the night if you'd join me " .
Find John on:
> Facebook: https://www.facebook.com/JohnKellyMusician
> Instagram: https://www.instagram.com/johnkellymusician/
> Twitch: https://www.twitch.tv/johnkellymusician
> Twitter: https://twitter.com/JK_Musician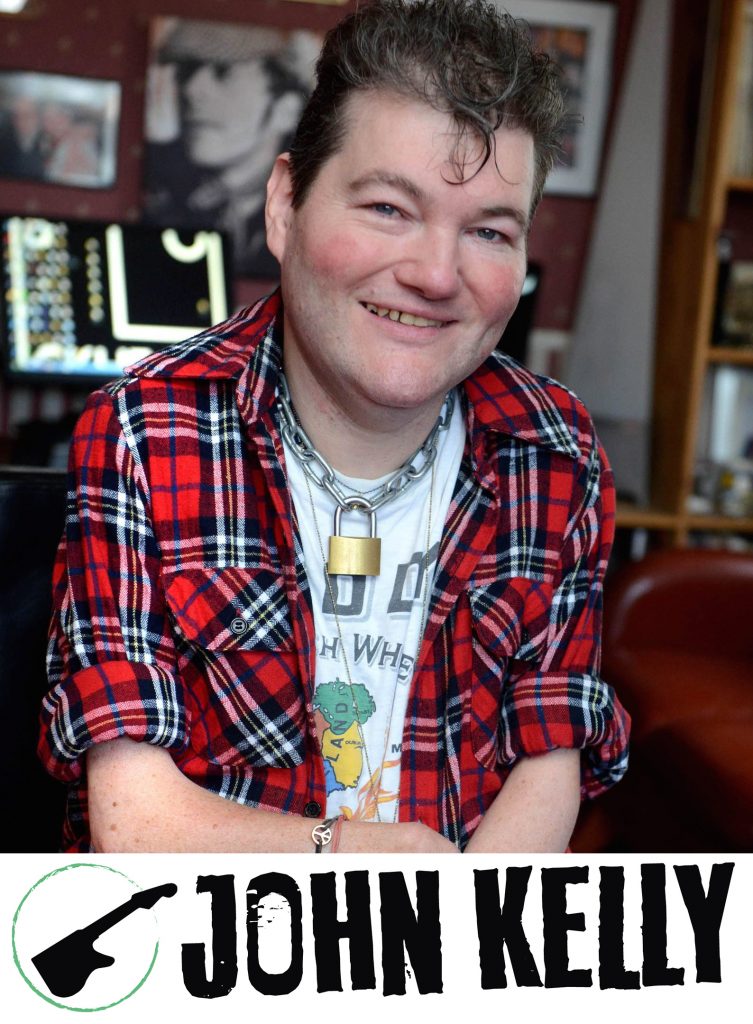 BIOGRAPHY
John Kelly is a warm, funny, passionate musician with over 35 years' live experience. He is a lover and a (non-violent) fighter for equality, inclusion and human rights. His music brings together aspects of folk, rock 'n' roll, Ireland and punk.
His songwriting sits alongside that of his heroes and peers; containing all the compassion & conviction of Woody Guthrie and Ian Stanton, the fiery passion of Billy Bragg and the imaginative storytelling of Ian Dury & The Blockheads.
As a solo artist and lead member of the band Rockinpaddy he has wowed crowds at gigs ranging from backroom pubs to sold-out stadiums.